The A Level Curriculum
Students usually take 3 or 4 different subjects over a 2 year period, typically between the ages of 16 and 18. The English educational system allows students to specialise in the subjects of their choice at A Level and British universities like A Levels as they provide the depth required for UK degree courses. In nearly every other country, students have to go through a prolonged general education, and can only specialise when they go to university.
A Level Reforms
The UK Department for Education has recently pushed through big changes to AS and A-level exams, aimed at making them more 'fit for purpose'. The new A Level reforms place an increased emphasis on the performance in an exam as there will be little coursework and few opportunities for resits.
For most subjects this already means that students will only be examined at the end of their two-year course and AS Levels will no longer count towards the final A Level grade but rather stand-alone from the final A Level, having been 'decoupled.'
The curriculum of most A-level subjects has not and will not be significantly changed, the exception being maths, which is receiving a major shake-up.
The other notable change is a reduced emphasis on coursework. Now simply referred to as 'non-exam assessment' the reforms will see a drop in this form of assessment as the new principle is that if it's possible for something to be assessed through formal examination then it will be. The practical work, in Science, will be a practical endorsement, which must be passed but will not contribute to the final A-Level grades awarded.
Existing ('legacy') A levels are modular and they comprise AS modules (50% of total A Level marks + UCAS tariff value) taken in Year 12 (lower sixth) and A2 modules (50% of total A Level marks + UCAS tariff value) taken in Year 13 (upper sixth).
The new AS is not an advanced subsidiary but instead more of an advanced supplementary qualification. If you just study for an AS you should finish it at the end of Year 12 (lower sixth). Marks gained in the reformed AS level cannot count towards a full A Level. They are worth 40% of an A Level (+UCAS tariff value). This means that when you apply to university under the new UCAS tariff an A-level A grade will be worth 48 points and the A grade in AS will be worth only 20.
Schools have been left in a rather difficult situation in trying to decide what to offer their sixth form students. There are three options;
One Year AS -> course taught in Year 12 (lower sixth) and examined at the end of that year. Worth 40% of a full A Level and can be taken no further.

Two Year AS -> course taught over a two year period and examined at the end of Year 13 (upper sixth). Still only worth 40% of an A Level and no A* grade available. This can be taken alongside option 3 (below)

Full A Level -> reformed 'linear' course taken over the two year period. All exams taken at the end of Year 13~, no marks can be picked up throughout. ~Schools can consider internal testing to gauge the level of a student at the end of Year 12 (lower sixth).
The new A levels will be graded with the same A* to E pass marks as previously used.
Most AS and A-level courses are designed to be "co-teachable" so that both groups of students will learn the same things in year one. The key difference is that those students who have opted for the A-level course will not be assessed at the end of year one, but those taking an AS exam will be.
The new UCAS Tariff used for university courses starting from September 2017.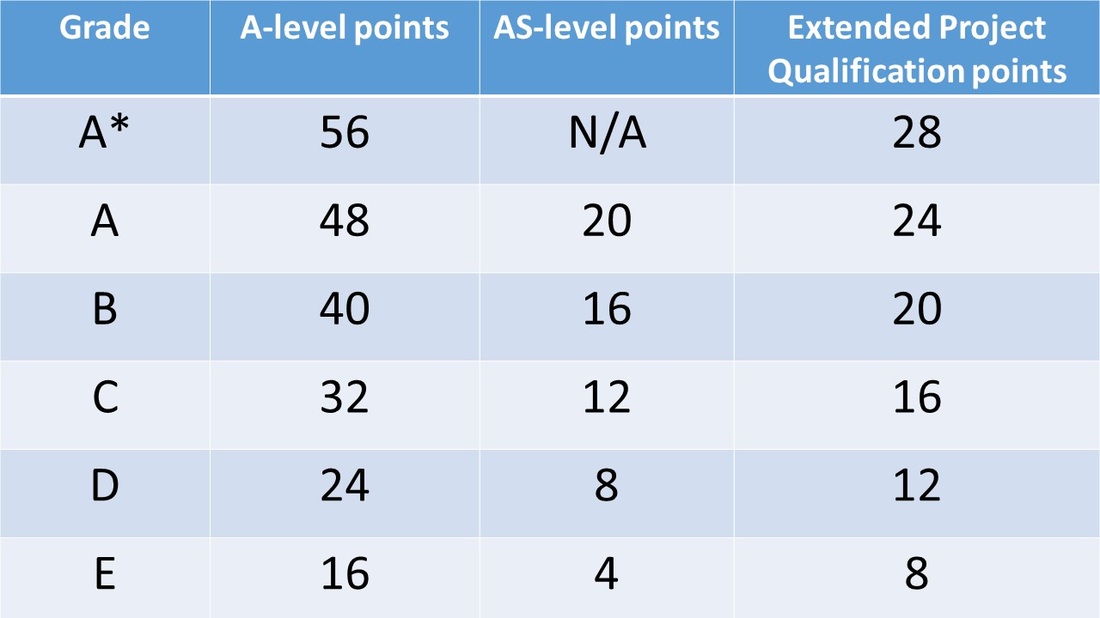 Making the Right Choice
Most schools and private sixth form colleges have a wide range of subjects from which to choose so choosing the subjects to form an A Level portfolio takes time and thought. First and foremost you should consider subjects that interest you and that you know you will enjoy. You might call this 'gut feeling', but it is as good a guide as any, because you will be strongly committed to the subjects that you like and therefore more likely to work hard and achieve top grades.
Secondly, the subjects of your choice must suit your own particular strengths. Are you good at essay writing? Are you fond of problem solving? Do you like working with figures? Do you like working with ideas? Back your strengths – avoid your weaknesses!
Thirdly, you must consider your university or career objectives as these may mean that you have to gain passes in certain subjects. For example if you want to read Medicine or Veterinary Science, you will need at least two science subjects, including Chemistry. If you are applying for Economics or certain Business degree courses. then universities may well demand a pass in A Level Mathematics. On the other hand, you may want to keep all your options open, because many degree courses do not have any special subject requirements. It is always worth checking.
Help with your choice
If you are still unsure which subjects would best suit you, why not talk to us on +44(0)1622 813870. We can also introduce you to certain colleges where the Principal will assess your strengths and ambitions before recommending appropriate courses. Note that A levels are not easy and ideally you need a minimum of grade B in the equivalent GCSE subject first. If necessary we can advise you on retaking any GCSE subjects.
EPQ
Another increasingly popular option for a number of schools to offer is the Extended Project Qualification (EPQ). Already in place in a number of schools this can be a 5000 word research based essay, a performance or a creative artefact etc and involves several months of work during the sixth form. An EPQ will still be marked at full A Level standard (A* available), unlike the reformed AS course. It also equates to 50% of a full A Level.
We can advise you on subject choices and invariably find you a school or college to take them.
Tel: +44(0) 1622 813870 or +44(0) 1622 812852
Email: info@educationadvisers.co.uk