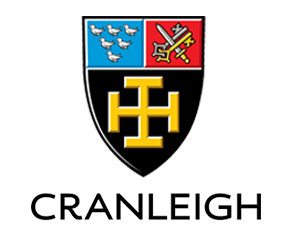 Cranleigh School - Surrey
Horseshoe Lane, Cranleigh, Surrey, GU6 8QQ, United Kingdom

Make an Enquiry
Cranleigh School is located in the small, peaceful Surrey village of the same name, boasting almost 300 hundred acres of grounds and extensive facilities for nearly 700 students. In this setting, Cranleigh School has forged a reputation as being a real, family-like organisation, where generations of the same family attend and enjoy the friendly community atmosphere.
Cranleigh School welcomes local day students from the region's prep schools, as well as boarders from overseas, and it is incredibly popular with London families looking for a top weekly-boarding school. The grounds and facilities tick every box for an all-round education, including theatre, music, art, and a fantastic provision for design, technology and engineering. Its reputation for sporting excellence is unsurpassed in the local area, and the school utilises its mix of old and brand new buildings to great effect.
Overall Cranleigh School offers a broad education and superb facilities, but sets itself apart with a welcoming and extensive network of current students and alumni who truly see themselves as part of something special.
Would Cranleigh School be a good fit for my child?
Whilst not to be considered a sports-centric school, Cranleigh students are expected to participate in sport 4 or 5 times a week so, for those with a real aversion to exercise, this is not the place to be.
In fact, Cranleigh School is really best suited for students who want to have a go at lots of different things. The timetable is specifically designed so students can follow whatever range of extra-curricular activities they wish, without having to sacrifice one for another.
Cranleigh School is reasonably selective on the academic side, but still provides a comprehensive level of support for students who may need it. A candidate's personality is of great importance to the school, and enthusiasm, resilience and a desire to contribute to the tight-knit community will stand any student in good stead.
How do I apply for Cranleigh School?
Like most schools in the area, Cranleigh School starts assessing 13+ domestic prep students in Year 6. Most students stay on at 16+ but places will still be available, providing you register about a year in advance.
For the right student it is always worth checking if an occasional place is available, so please contact us to discuss suitability at any time.
School Video
Photos
School Information





Day fees at sixth form
£37,905

Boarding fees at sixth form
£46,035