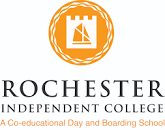 Rochester Independent College
254 St Margaret's Banks, Rochester, Kent, ME1 1HY, United Kingdom

Make an Enquiry
Rochester Independent College was founded as a sixth form college in 1984 and offers a fresh alternative to traditional independent education. There is no uniform and students and teachers are on first name terms. Today, RIC has over 280 students from the age of 11 and offers places for boarders from the age of 16.
Classes are small. On average there are 8 students in each group. As well as a full secondary education from year 7 to sixth form the College specialises in intensive one year A level and GCSE courses. RIC also has a good track record of excellent results on retake A level and GCSE courses for students aiming at competitive university courses including Medicine, Law, Veterinary Science and Dentistry.
At A level there are no restrictions on subject combination. Maths and Sciences are the College's strongest subjects and students consistently win places at Oxbridge and other Russell Group universities.
At the heart of a designated conservation area, Rochester Independent College is housed in restored properties enhanced by modern design features. The historically distinctive site with listed buildings linked by award-winning wildlife gardens creates a unique sense of place to explore and in which to live, study and work.
School Information





Day fees at sixth form
£22,800

Boarding fees at sixth form
£47,400

Exam results 2022 A Level A & A* grades
30.00%

GCSE level A & A* grades
33.99%